Welcome to Unit 1 of HowToStudyKorean.com. My little sister told me that she taught you how to read Korean! That's good, because here in Unit 1 you will start learning basic grammar, words and sentence structures. It is very important when you learn a language to build up your vocabulary to be able to speak in every day conversations. But, because your are just starting out, the first few lessons in this Unit will have a smaller amount of new words than usual. As you progress, lessons will include more and more words to add to your vocabulary!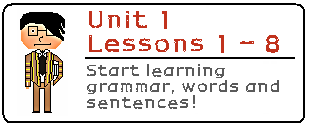 Lessons 1 – 8: Start learning actual grammar, phrases and words that you can apply to daily conversation! We will start by introducing you to basic Korean sentence structure, which will lead into you making your own sentences using proper conjugation techniques. You will also learn about all the irregulars in Korean grammar, and how to use them in sentences. These first 8 lessons are hard, but they will be a strong foundation for your future studies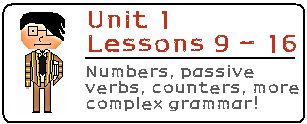 Lessons 9 – 16: These lessons will build heavily on what you learned from earlier lessons. In these lessons, you will be introduced to numbers in Korean and how to deal with telling time, counting things, and many more things that require an understanding of numbers (Korean numbers are very confusing!). In addition, you will learn about passive verbs, asking questions, and how to use many grammar formations to create many new sentences!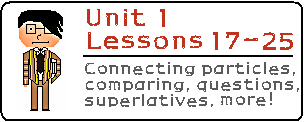 Lessons 17 – 25: In these final 8 lessons of Unit 1, you will be introduced to connecting particles in Korean. Eventually, you will learn hundreds of these particles, but here in these lessons, you will be introduced to the most basic ones (~고, ~고 싶다 and ~고 있다 to name a few). You will also learn about using 잘/못 in sentences to indicate that you do something well/poorly. In addition, you will learn the many different ways that you can ask questions in Korean, along with the words 이렇다, 그렇다 and 저렇다.

Unit 1 Test: At the end of each unit, there will be a Unit Test where you can test yourself on what you learned from the previous 25 lessons. Use this first Unit Test to test yourself on what was taught in Lessons 1 – 25.